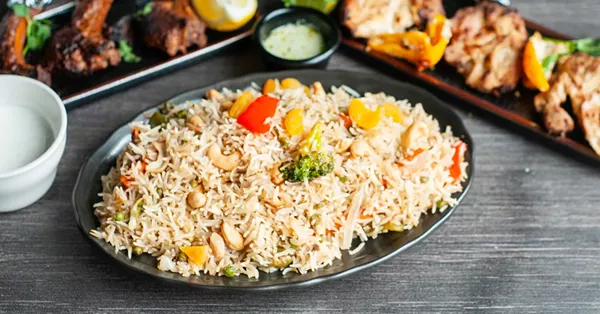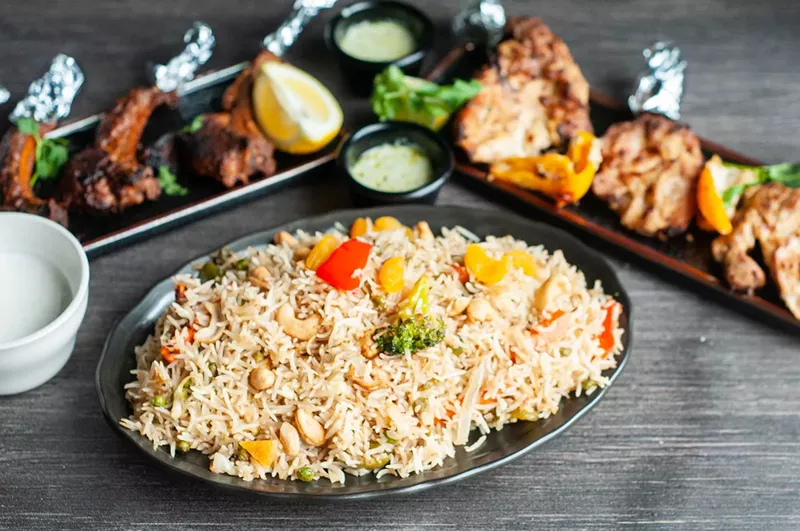 I was taken to Basil Indian Bistro by a friend who was taken there by a friend from India who in turn was recommended by another Indian friend. Two from the subcontinent and two from here tell you that the food in Basil is worth a visit.
It's chef-owner Hema Patel's first restaurant outside of running Subway, but she's sure to have a long list of familiar and not-so-familiar dishes on her plate. She was born in Gujarat, north of Mumbai, but also does some business from South India.
I like the way some Indian restaurants categorize dishes as "vegetarian" or "non-vegetarian" like they do in India. The non-meat option is the default, the opposite of how most Americans approach their meals, and serves as a good reminder that there's more than one way to view the food world.
Basil has a lot of vegetarian and non-veg dishes, the latter is mostly chicken and seafood with some lamb options, the former includes eggplant, cauliflower, chickpeas, lentils, lots of paneer, peas, okra, spinach and cashews.
My favorite dish is Meth Chicken, Meth means Fenugreek. Its mild and assertive taste has been described as caramel or even maple syrup, but I disagree. It's not sweet, but…typically Indian.
Another milder dish is kaju kyoha, a cashew-based vegetarian dish. This one is a little sweet; you can have it for breakfast. To make its base, milk is boiled until it thickens, creating a rich, creamy sauce, Patel says.
Chicken karahi is labeled "spicy," but not off the Scoville chart; I rate it high for its complexity. The bird is cooked with a dry mixture of crushed red peppers, cumin and coriander seeds.
All chicken and sauce dishes contain rich chicken, which is common in Indian restaurants where sauce is king and rightfully so. (I also found this in Oaxaca, where you get a single drumstick but with many, many moles to soak up your rice and tortillas.) I'm especially happy that the rich chicken is dark meat, Greatly improved the taste. If only chicken could be reconstituted to get rid of the bland breasts…
Patel says her restaurant is the only one in the area that serves Kashmiri pulav, or Mumbai street-style tawa pulav (also spelled pulao). My friend ordered the latter and got a pile of rice big enough for three, with vegetables, nuts, dried fruit and cooled raita on the side. In Mumbai, it is cooked on the streets in woks over a griddle; Patel says she does the same.
Chicken tikka masala is one of the most popular dishes, along with butter chicken; it has a sharp and pleasing taste, perhaps mustard oil. In the vegetarian column, the bhindi masala was outstanding, cooked quickly, with a slightly crispy texture, just the right level of spice and tenderness. Get over your okra prejudices — in the hands of a skilled chef, it's world-class.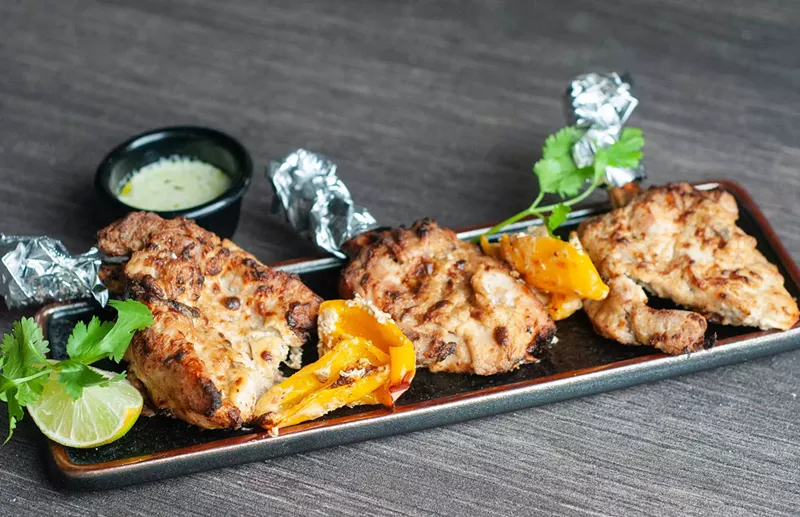 Patel offers a page of "signature dishes," warning that they may take longer, such as stuffed slushie: a pepperoni made with boiled milk, tahini and yogurt. We ordered the Garlic Lemon Butter Shrimp from that list and it was very good but not better than other cheaper dishes.
For an appetizer, I like the hearty cauliflower chili dish, deep fried but so tender it doesn't look like it's cooked with bell peppers. Equally spicy is the Vegetable Manchurian, delicate 12 pieces, enough for a table. Appetizers can also be vegetarian or non-vegetarian, the latter including lamb chop kebabs cooked in a tandoor.
The usual favorites are well done: the garlic naan is big, thick and buttery, with a great air-filled dome that rises from the bread like the body of an octopus. The apricot mango lassi was also generous and did not disappoint. The samosas are served with a herbaceous green chutney with a hint of coriander.
For dessert, the traditional gulab jamun is rich – also made with those boiled milk solids – and served in warm syrup. Mild and soothing suji ka halwa has a creamy wheat base, but with added nuts and crushed fresh cardamom.
As much as I love the food, I have to admit, eight months on, Basil still doesn't have the vibe. There is no usual Indian-style decor: no ganesha, no hanging textiles, just bare tables and bare walls. The food has to create its own atmosphere – it's just that good.
location details
Basil Indian Bistro
1 article
Coming soon: Metro Times Daily newsletter. We send you some fun Detroit stories every morning. Subscribe now and never miss a thing.
Follow us on: Google News | News Feed | Reddit | Instagram | Facebook | Twitter