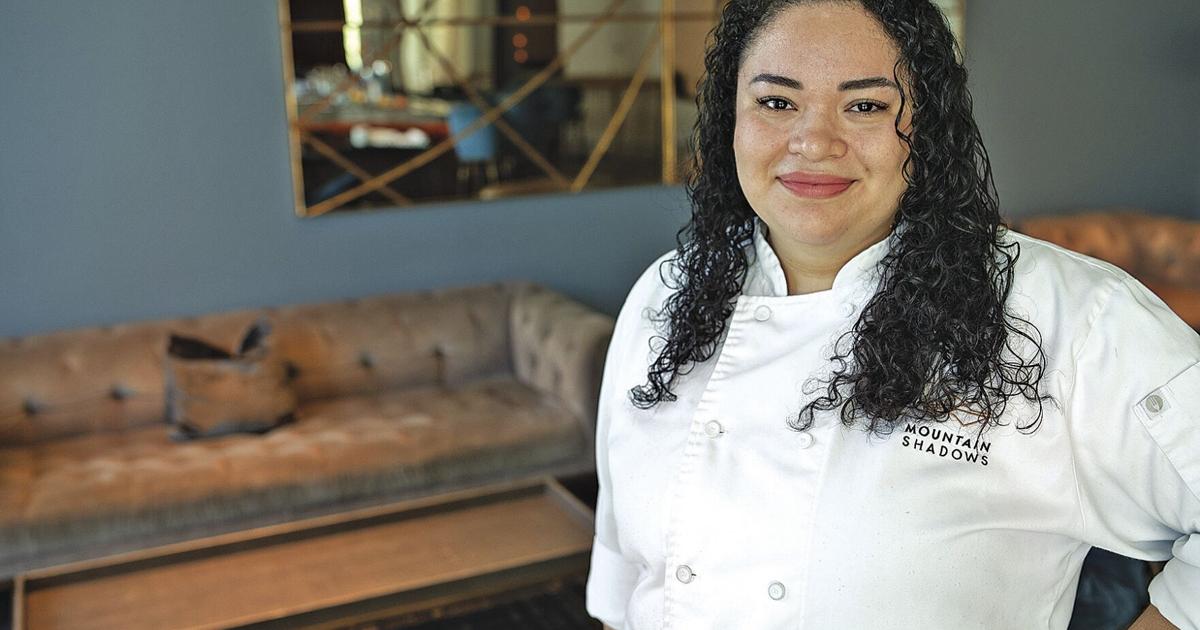 Yulissa Acosta is now coordinating many meals as the new head chef at Hearth '61 restaurant in Mountain Shadows in Paradise Valley.
She leads menu development, coordinates meat and seafood sourcing and ensures culinary excellence.
"In the world of professional cooking, it's rare to come across a man who not only possesses culinary excellence, but also develops teamwork, passion, imagination and temperament, and a relentless drive for excellence," Executive Chef Charles Wiley explain.
Wiley, who has been an employee of developer Westtroc Hotels & Resorts and its predecessor Westcor for more than 30 years, adds, "Yulissa has proven herself to be proficient in all of the above."
She also works closely with Executive Sous Chef Alfred Muro and 25 team members, including Waiter Anessa Khan, Wine Steward Denis Babic, Wine Steward and Restaurant Manager Jimmy Coghill.
Hearth '61 is named to celebrate the year Paradise Valley was founded. The original Mountain Shadows Golf Resort opened two years earlier in 1959, hosting locals and tourists like Bob Hope, Lucille Ball, Robert Stack and Del Webb.
Today, the 183-room resort's signature restaurant serves brunch and dinner. The seasonally changing American menu features Southwestern influences, Chef Acosta's insights from her native Mexico and French cooking styles.
Guests can enjoy the show kitchen with its large oven, floor-to-ceiling glass and contemporary finishes, which facilitate family gatherings and more intimate meetings. On Friday and Saturday nights, the bar offers quiet live music.
Acosta noted that the popular monthly Sunday Supper Club has relaunched its four-course wine-pairing menu post-Covid.
"We always have a special guest, a well-known chef from other restaurants during the summer months, and they often sell out," she said.
Acosta moved to the Valley as a child and attended elementary school in Mesa and Tempe High School, where her culinary arts teacher inspired her to become a chef.
"I didn't know it was an option for my future at the time," she recalls, thanking her teachers for giving her access to a range of culinary inspiration and experiences.
She received a scholarship through C-CAP (Careers Through the Culinary Arts Program), which allowed her to attend Classic Culinary Institute in Scottsdale.
"It was a very educational and detail-oriented experience," she recalls. "The instructors there at the time were very honest and helpful, especially when I was learning new cooking techniques."
Subsequently worked at Bink's Midtown and Mirabel Golf Club.
At these establishments, chefs Kevin Binkley and Brandon Gauthier mentor her. During this time, she also learned kitchen ethics, especially managing speed and timeliness.
"A big factor that I always carry with me is the importance of a clean kitchen and taking the extra time to refine the nooks and crannies," she says. "In the long run, it will make a difference, especially in terms of equipment."
In 2017, she helped open Hearth '61, starting as a line chef; just a year later, she became sous chef. "I put in a lot of time and am committed to working as a team and willing to learn from others," she said.
Chefs Wiley and Muro have taught her since then.
"There's not enough time to describe how much I've learned from both of them," Acosta said.
"Chef Willie has influenced the creativity in all of us; he has given us a lot of flexibility to be creative. We are all lucky that he has provided us with a pleasant work environment."
She added: "However, I have also been lucky to work with unique ingredients and they have been very gracious and patient in teaching me how to incorporate them into their dishes.
"I try to keep it simple, use these influences, seasonal ingredients and put a lot of flavor around it."
Two of her dishes are a beautifully presented Duroc Ranch Pork Chops with Jacob's Bean Ragu and Black Pepper Sauce, and a Double Wash Ranch Chicken Wrap with Barley Risotto, Romanesco Broccoli and Natural Juice.
"I wanted to enhance the flavor of the protein in every dish," she explains. "The glaze in the pork brings out the sweetness and spice, and the Jacob's bean bolognese dials it down to the point where the glaze itself cuts through the fat.
"With the chicken, I tried to experiment with the texture of the meatloaf itself and add the creaminess of the barley risotto. The natural gravy complements the chicken and helps to remove the fat from the risotto."
Those on a diet will appreciate Wiley making sure the Hearth '61 menu includes gluten-free, vegan, and vegan options. Acosta added that kitchens are also closing menus when possible.
At Hearth '61, diners can start their meal with a "To Begin" selection, flatbread and salad.
The chef recommends two refreshing foods: hiramasa crudo and tempura oyster mushroom. Accompanying these may be bread from Noble in Phoenix for dipping in a homemade basil pesto, nut-free, and sprinkled with Parmesan.
First, she uses yellowtail from Baja California for its flavor and sustainability. To that, she adds different flavors of cala orange slices, frisée, shallots, jalapenos, and white soybean vinaigrette.
A second, very different appetizer, a bit heavier, combines buttery sunscreen, shishito peppers, light and sweet black garlic tahini, walnuts and matcha, while the Mexican salsa chef assembles with dried quajillo and chipotle peppers.
The short rib pasta, developed by Chef Muro, is a regular menu item throughout the year and returns at specific times with variations.
"The reason it's not there all the time is that it takes too much work," explains Acosta. "It takes four hours to simmer to get just the right texture." For that, the kitchen offers a champignon velvet or sauce, onions, fennel, Aleppo peppers and mascarpone.
Each day the menu offers a special of the day, which may be meat, fish or pork. "Our fish suppliers might say, 'The orange roughy looks really good, and we can give you a really good price,'" Acosta explained.
The restaurant's wine list offers good pairing options, and dessert drinks, cognacs and digestive wines are also available during the dessert phase.
Chef Willy credits Acosta for the creative menu.
"Yulissa is the embodiment of a new modern chef who naturally embraces not only the simplicity, freshness and innovative presentation of Hearth '61 cuisine," he said, "but also the restaurant culture of genuine hospitality that we so crave."
Information: mountainshadows.com.