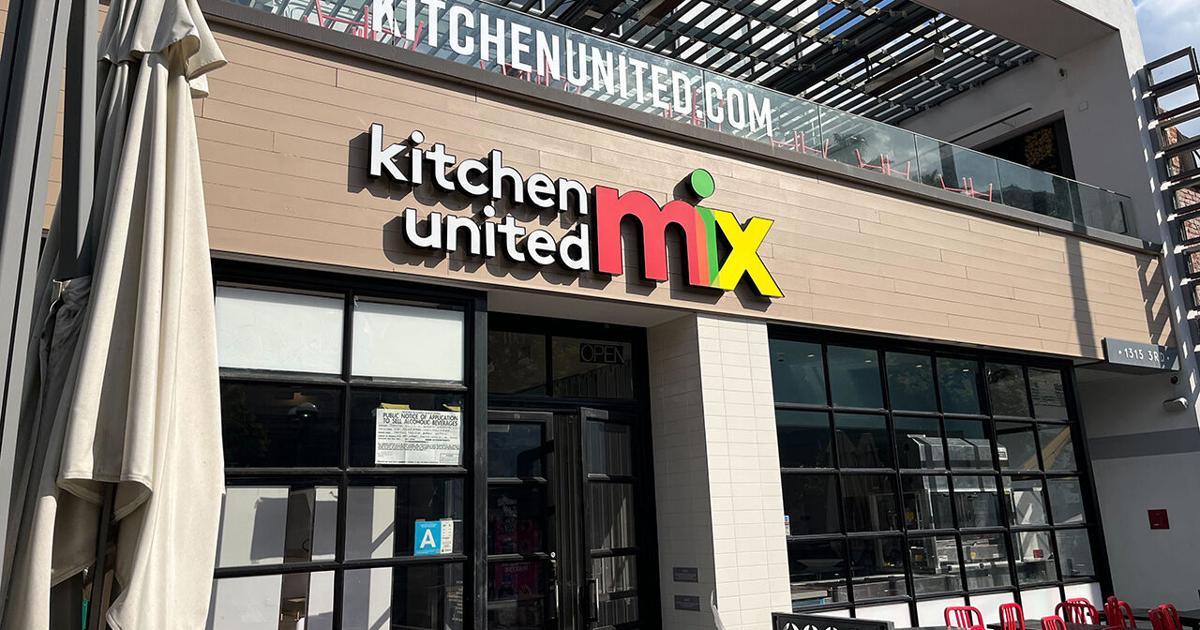 WWhen Kitchen United employees were looking for a new location, Santa Monica immediately came to mind.
"It's a great location right on the promenade," said Katie Wollrich, Kitchen United's chief marketing officer.
"There are locals who love Santa Monica, and there are tourists who come to the Los Angeles area. It has a lot of traffic."
Kitchen United MIX is the first multi-restaurant delivery experience in the United States. It allows food lovers who appreciate variety to order meals from multiple restaurants, all on the same bill.
"If you want a burger but someone in your party prefers poke, you can order it all at once," Wollrich said.
"For my kids, their tastes aren't as adventurous as mine and my husband's. We can satisfy a whole group of cravings. You can get a burger with a donut on it. You can make these fun, different combinations to satisfy your cravings."
Locals can grab items from various concepts, while others can pick up and dine in the food hall.
• Burger & Sons: An American burger brand using 100% all-natural grass-fed beef, all locally sourced to ensure community support and a reduced carbon footprint.
• Cookie Chaos: Offers classic and Asian-inspired homemade cookies and a dessert bar such as ube caramel cornflake brownies and matcha with white chocolate cookies.
• Duck Donuts: Warm, delicious and customizable donuts made fresh to order.
• Farmesa: A new concept from Chipotle Mexican Grill offering customizable bowls featuring proteins, veggies, grains and veggies. The menu is curated by James Beard Award-winning chef Nate Appleman.
• Mad Scientist Ice Cream: With 45 flavors, 19 toppings and 15 tubes to choose from, this concept encourages guests to create their own ice cream sundae, milkshake or ice cream bar.
• Pokaii: A Hawaiian-inspired pokè brand featuring signature pokè bowls made with locally caught fish and fresh, locally grown produce.
• Salads: Offers a variety of healthy and delicious salads made with high-quality, sustainable ingredients.
• Blu Jam Xpress: A sister concept to Blu Jam Cafe, featuring takeaway versions such as crunchy sandwiches (a spinoff of Blu Jam Cafe's famous crunchy French toast), vegan wraps and breakfast paninis.
• Gogo Ya: Crispy nori sushi tacos in varieties such as spicy tuna, teriyaki salmon and seasonal vegetarian options. Guests can also order a bento box with mixed grains, sushi rice or locally sourced vegetables.
• Mr. Roni Cups: Pizzas here feature a 48-hour proofed dough made with imported Italian flour for a crispy and airy crust. The namesake flavor Roni Cups uses two types of pepperoni. • Ms. Clucks Deluxe Chicken & Dumplings: Asian flavors, cooking technique and umami are key to specials such as the crunchy cajun karaage chicken sandwich and the signature spicy chicken and dumpling noodle soup with ramen and truffle chicken wontons. The Original Ms. Clucks Deluxe Fried Chicken Burger makes its debut here.
• Pomodòro: Italian pizzeria offering high-quality pizza.
• Santa Monica Brew Works: Founded in 2014, it is the first and only locally owned and operated craft brewery on Los Angeles' West Side.
Food orders can be placed through on-site digital kiosks and online at kitchenunited.com/santamonica. Liquor orders are only available at the Brew Works counter. While customers can also order from individual restaurants through various third-party delivery platforms, "multi-restaurant ordering" is only available through the Kitchen United Mix ordering platform.
"All 13 brands are independently owned," she said. "We're most excited about Farmesa, which has custom bowls. We're the first and only ones that exist.
"We're doing a rolling launch for other brands. When you walk in, Duck Donuts is right up front. They sell fresh, delicious donuts, freshly made."
Through Santa Monica Brew Works, guests can enjoy a beer with their meal.
"This place has a lot of great seating," she said. "We want to see more people enjoying these terraces."
Kitchen United MIX currently operates 18 delivery restaurants in Los Angeles, Pasadena, San Jose, Austin, Dallas, Houston, Scottsdale, New York, Chicago and Ohio.
Kitchen United MIX Santa Monica
Santa Monica Promenade
1315 Third Street, Santa Monica
kitchenunited.com/santamonica