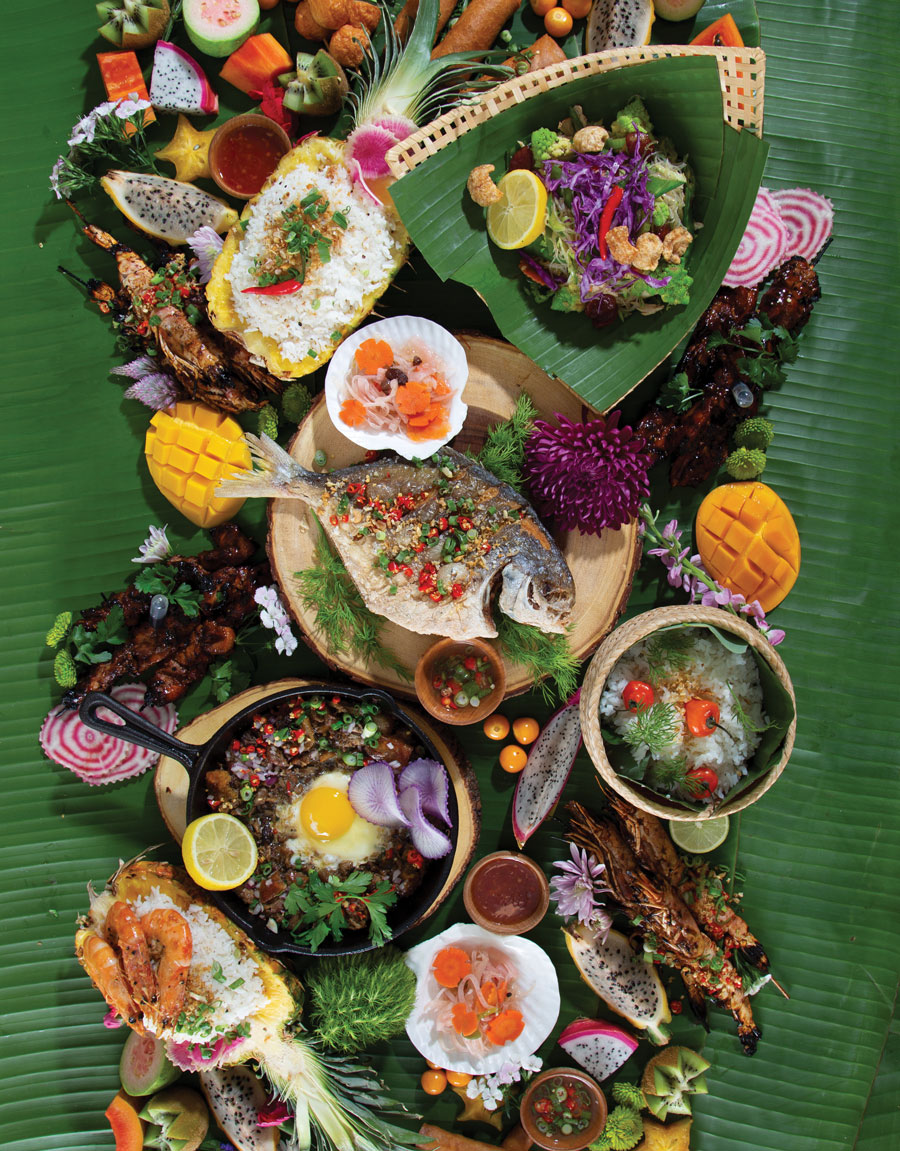 Atlanta's first Filipino restaurant, the long-gone Ms. Honeybear, is tucked away behind a sleazy mall on Memorial Drive near Stone Mountain. There, I developed a taste for lumpia (fried spring rolls) and halo-halo (a shaved ice dessert similar to a luxury parfait) and the amazing ube, a purple tuber widely used in Filipino cuisine. For a decade, the only local representation was the fantastic Mabuhay grocery store on Jonesboro Road and a few other ephemeral holes in the wall.
Then there's Estrellita, which opened in Grant Park in 2020, and Kamayan ATL, a magical pop-up by Mia Orino and her culinary and life partner Carlo Gan. Born and raised in Manila, Orino came to the United States to study political science at Georgetown University. Her hopes of becoming a lawyer eventually morphed into a passion for community activism. She still owns a business in Washington, D.C. that helps survivors of domestic violence find jobs. In Atlanta, she and Gan started throwing parties like southerners throw a picnic. The communal meal known as the kamayan—often served on banana leaves and without cutlery—links her to her heritage, a place where people have eaten together with their hands since pre-colonial times.
I've never attended a pop-up in the form of a pre-paid kamayan feast at venues around town, but always intends to. Then came the pandemic, which made me feel a little anxious about the prospect of eating at a table with a bunch of strangers. But at Orino and Gan's recently opened brick-and-mortar restaurant at Buford Speedway Asia Plaza, there's nothing to worry about, a place now beloved by me and countless other food lovers (in Atlanta and beyond: last year, even at the restaurant When it opened, Orino and Gan were semifinalists in the James Beard Awards Emerging Chef category). There they serve a regular à la carte menu most nights of the week, in addition to regular kamayan style meals.
At a recent such event, individual tables of various sizes—each seating two, four, six, eight—occupied the relaxed, looming beach restaurant. Chopped tropical fruits like star fruit and dragon fruit, lovely ube muffins, two different rice dishes (including a fried garlic rice with half a fresh pineapple in it), chow mein, shrimp crackers, crispy pork belly cubes, ribs —Every table is already set up. As soon as everyone is seated, skewers, king prawns, fried pompano, pork rolls and lumpias of all kinds walk around the room. During this nearly dispiriting two-hour meal, I especially remember a huge pile of soaked green beans seasoned with citric acid, finished with a charming eggplant and coconut curry served in a terrine. Diners are welcome to take leftovers home. (Follow @kamayan_atl on Instagram for upcoming dates.)
The regular menu is just as exciting, with many of the aforementioned dishes served individually. Lechon, often outsourced by restaurants, is cooked in-house at Kamayan, with appearances such as succulent pork legs, rolled suckling pork belly, and even a plate of crunchy pork ear slices with giblets and a fried egg. Board Sisig. Kare-kare (creamy beef and peanut stew) and other comfort dishes rotate on the often-changing menu. "I like to keep things interesting," Orino told me.
The restaurant doesn't currently serve alcohol — it's working on a liquor license — but it does offer canned sodas, including a Filipino soda flavored with citrus; as does homemade ginger tea, usually in a large strainer by the door middle. After you order at the counter, friendly staff will bring the food to your table and retrieve cutlery and sauces from the small table reserved for this purpose. Be sure to order Orino's ube flan or her halo-halo — layers of ice cream, shaved ice, fresh fruit, sweet red beans and a gooey sauce.
This article appears in our April 2023 issue.
advertise