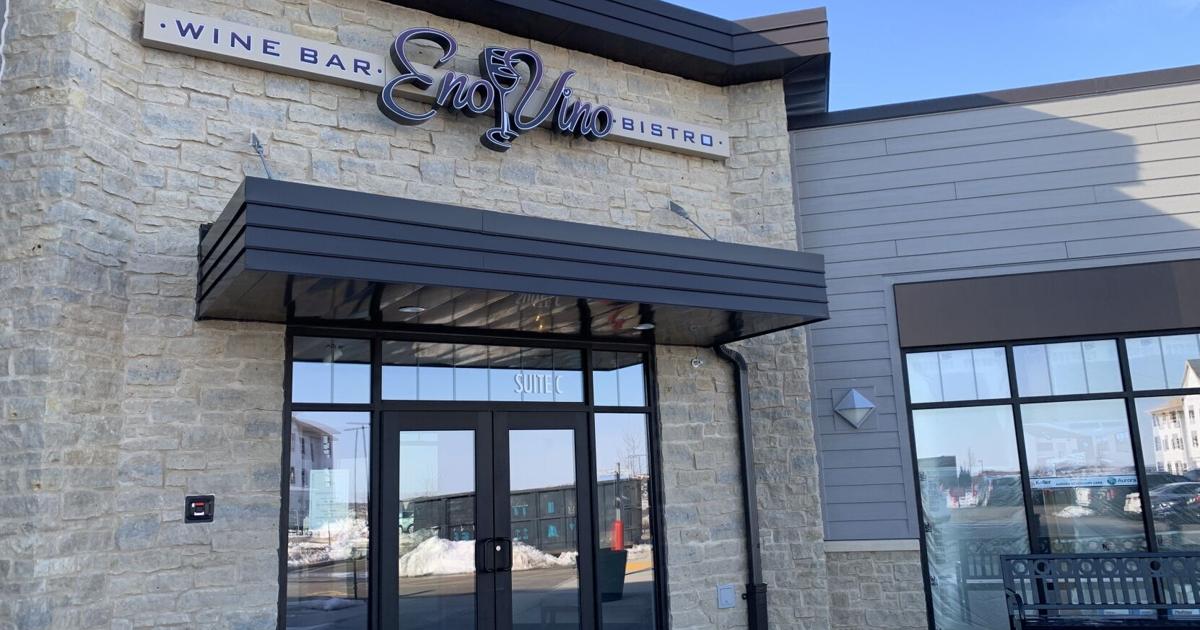 Bar manager Ty Todd of the Eno Vino Waunakee, which opened in October, said business has been slow and he hopes it will pick up in the summer when the restaurant patio opens.
"We're really trying to provide the best possible service," he said. "We wanted to bring back that old-school Eno Vino West Side feel."
In the early days of Eno Vino — the original Junction Road restaurant in Madison's Far West opened in 2004 — about 90 percent of its customers were regulars, Todd said. "They come here for the standard, the food and the service. We're trying to rebuild that image."
Eno Vino's flagship restaurant opened in spring 2017 on the top two floors of the 10-story AC Hotel by Marriott, just one block from Congress Square.
The three Eno Vinos have different menus but have a lot in common. Many dishes at Waunakee are a few dollars cheaper than elsewhere.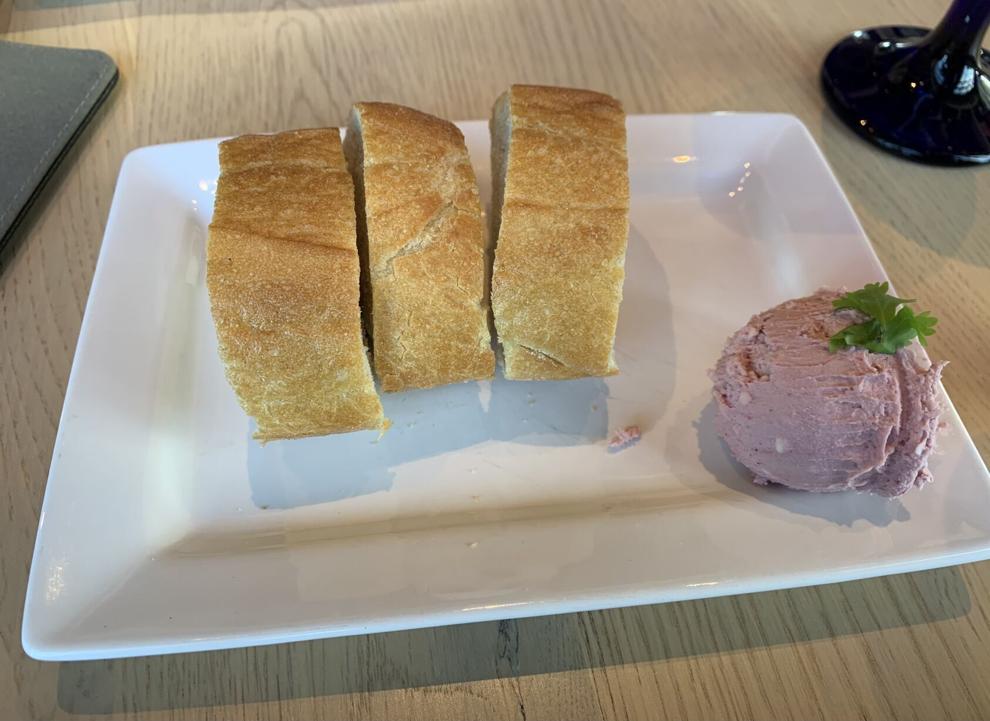 We were delighted to start the meal with three slices of warm bread and lightly sweetened red wine reduced fat butter. My 17 year old daughter says she can't remember the last time a restaurant served bread, and neither do I. Many places have it on their menu and now charge for it.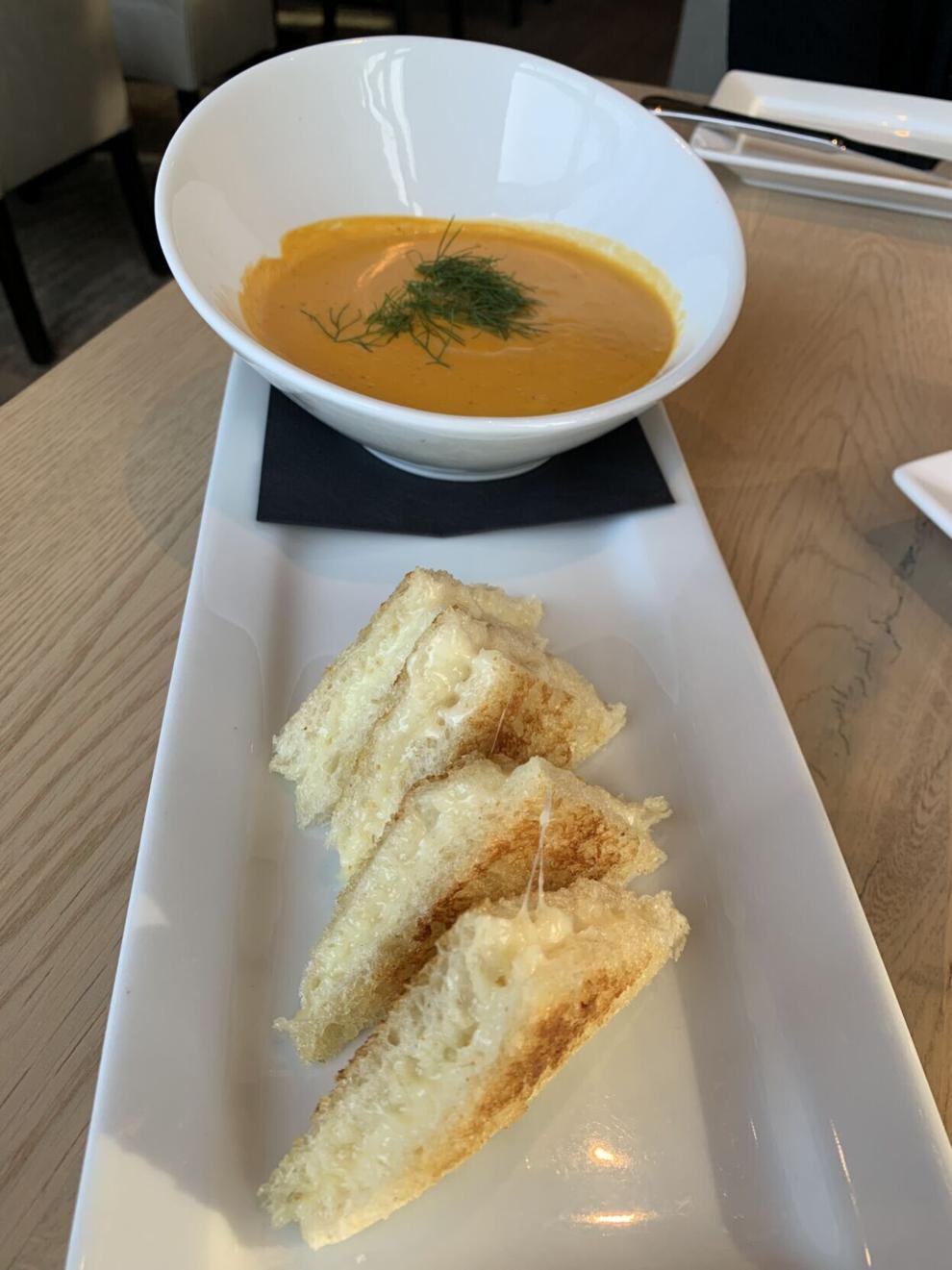 Another highlight is the soup of the day ($12), sweet potato cream with chive oil and sautéed vegetables. It was hard to figure out what veggies were in it as they were pureed and the sweet potato flavor dominated. As a bonus, it comes with a crustless grilled cheese sandwich, crispy and buttery and beautifully presented.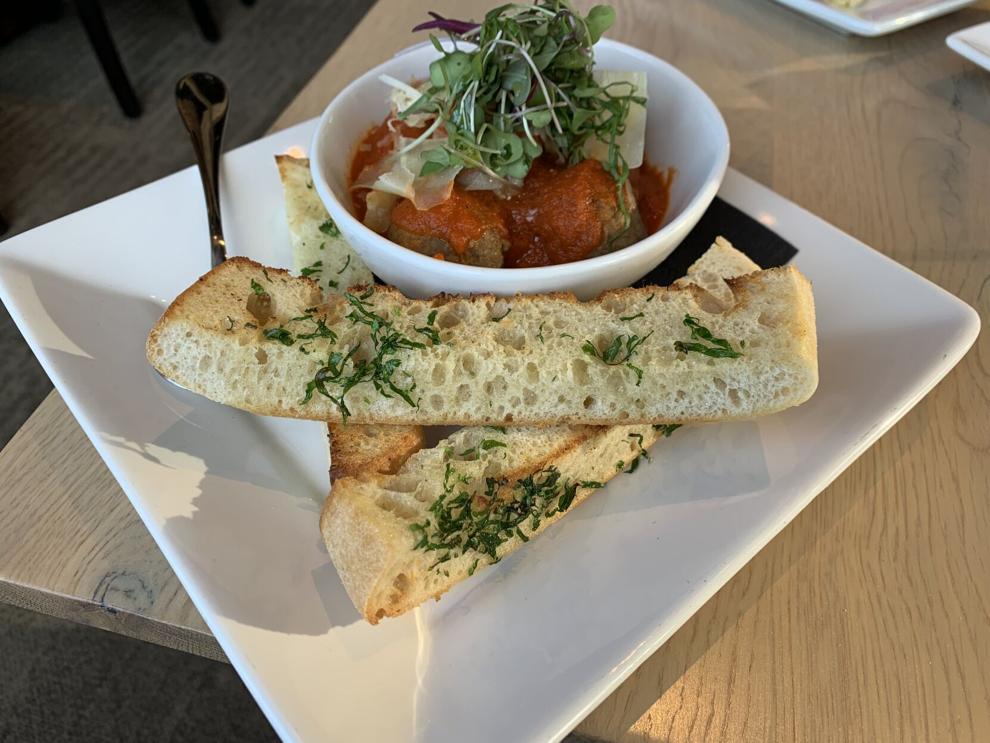 The signature meatballs ($18) are also attractive, served in a bowl topped with San Marzano tomato sauce, Parmigiano-Reggiano crumbles and micro greens. The little meatballs were delicious and served with garlic ciabatta breadsticks that were ready to eat. After all, we've been spoiled with unexpected bread combos and surprising grilled cheeses.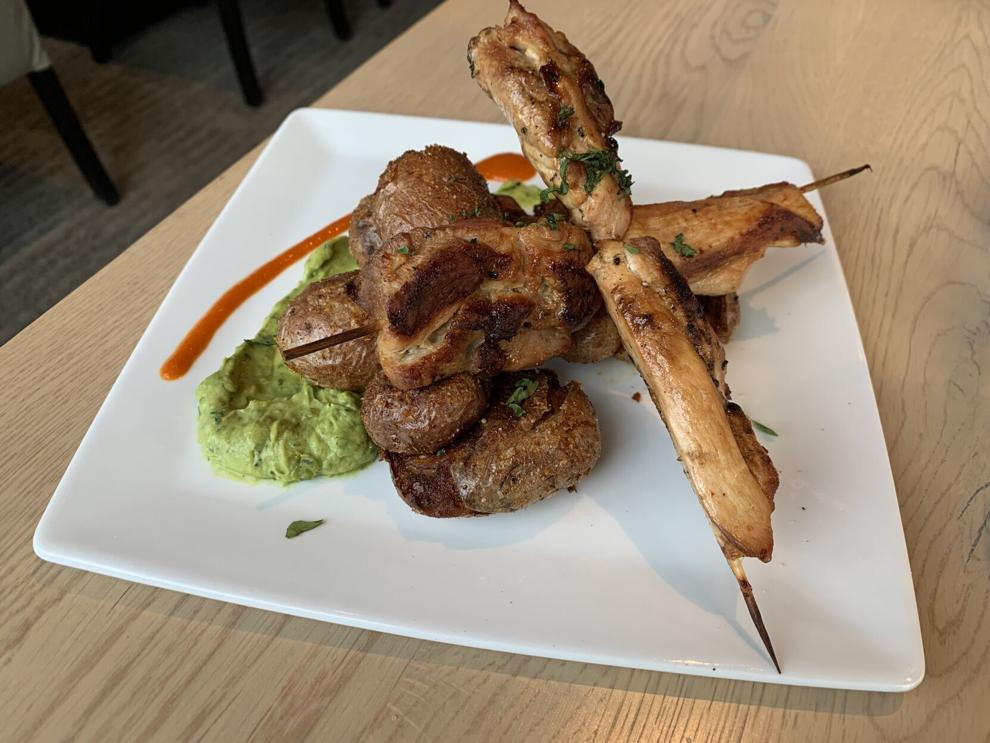 The chicken thigh kebab ($19) was the only highlight of the hearty meal, though the crispy mashed potatoes that came with it and the guacamole on the plate were excellent. There's something wrong, you might say, about chicken.
Both the meatballs and the chicken were under the largest section of the menu, "Sharing", and our server asked us if we wanted them served with the soup or on their own. We should have opted to eat them all at once as there was an unusually long lag time before the chicken arrived.
Otherwise, the service is very good. Our server was personable and patient when it took us a long time to order. The host who seated us was also friendly and welcoming. I later found out it was Todd.
He brought us an iPad with a more detailed wine and cocktail menu and never returned to get it. We don't see demand for iPads. The paper menu has enough detail for our purposes.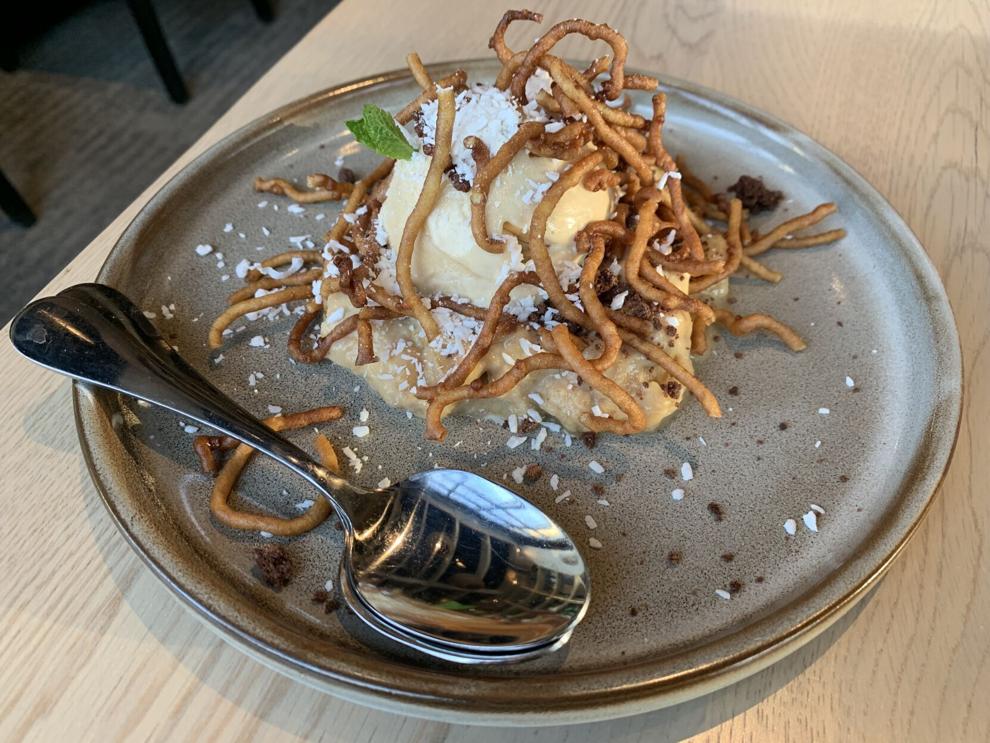 For dessert, we opted for something called Wisconsin winter ($10), which is like a modern-day banana plantation, with homemade milk milk ice cream on caramelized bananas. It also had chocolate chips and little bars, apparently made of donuts, that looked like those unattractive crunchy chow mein. The "snow" on top is in the form of coconut meringue, or so the menu says. It's more creative than delicious.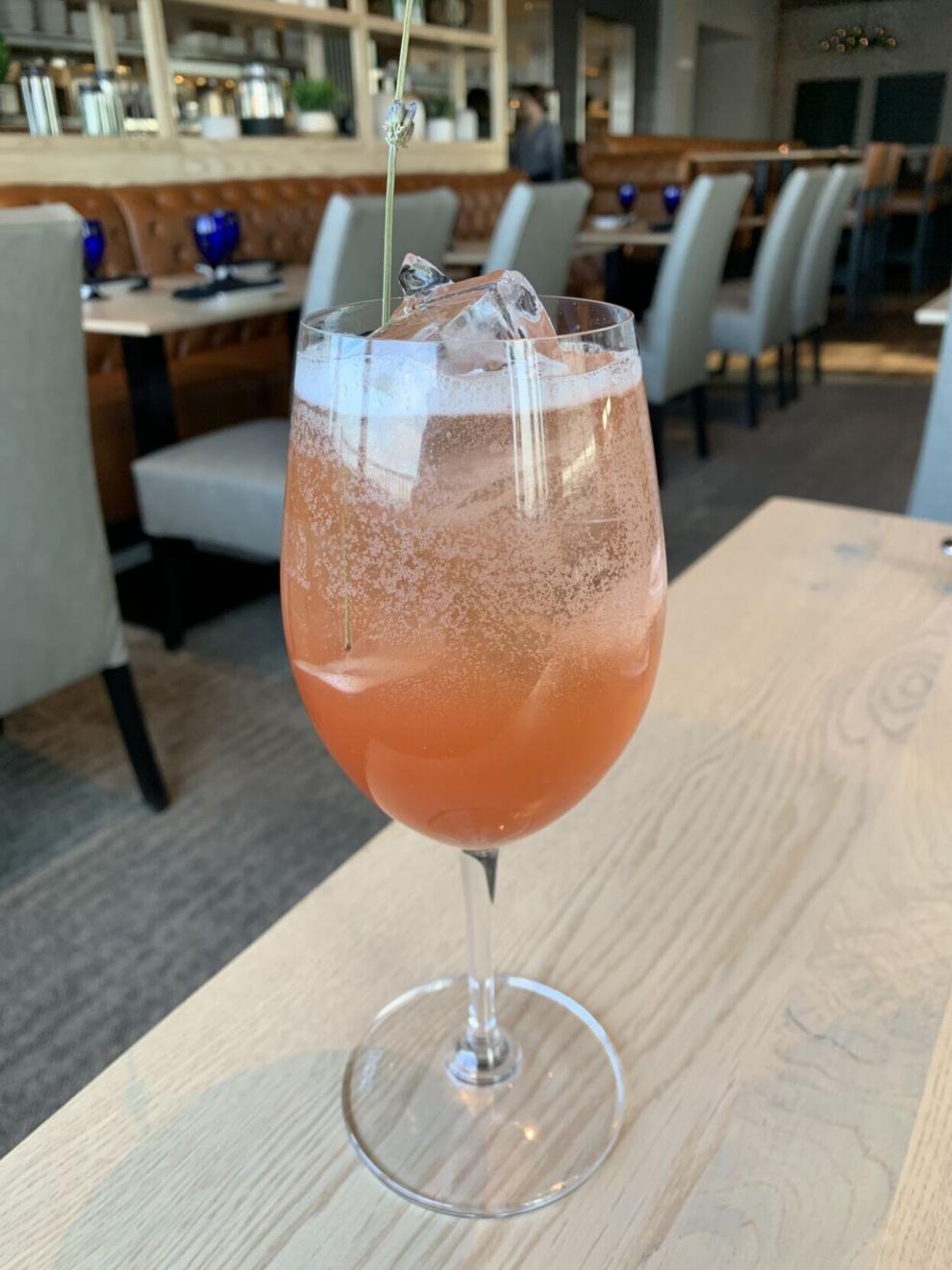 I felt the same way about my drink, "I'm Not Spritzing You" ($11), which has blueberry vodka, Brillet (an infused liquor), limoncello, aperitif, lavender syrup and sparkling water. It's mild, not overpowering, and it's a nice spring or summer cocktail, but not something I'm dying to get again.
Waunakee Eno Vino's vibe is a key part of the experience: contemporary style and clean lines. The iconic blue water glasses are brought over from elsewhere, and the gray leather chairs are very comfortable.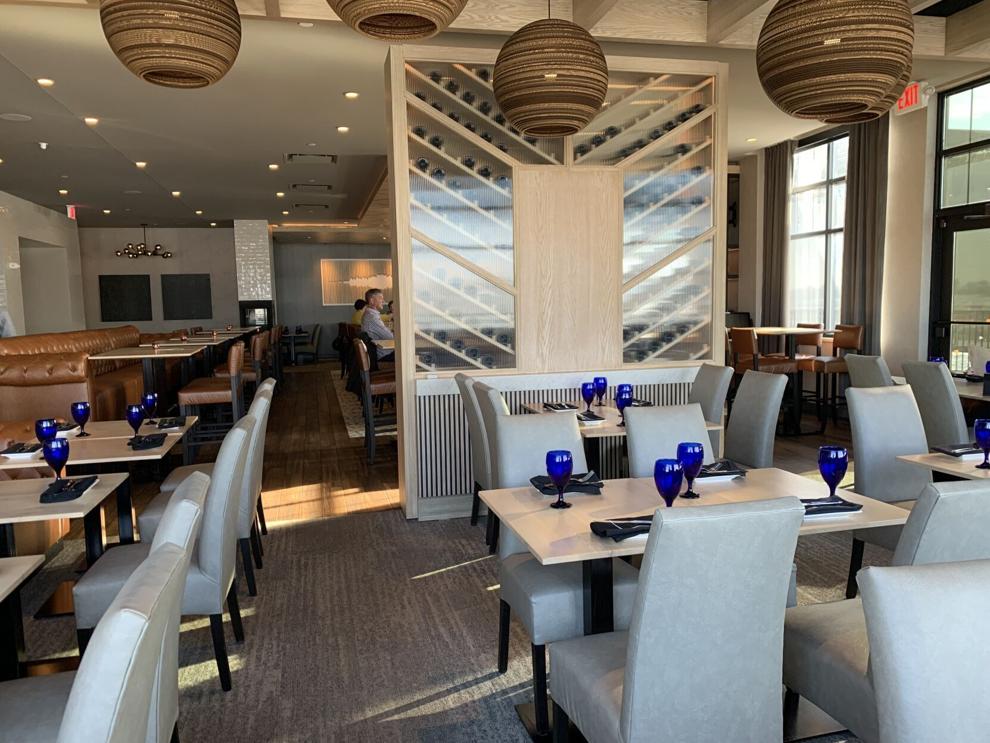 The waiters' uniforms, gray button-down shirts and black trousers complement the restaurant's color scheme and decor. Nirvana and Red Hot Chili Peppers were playing on the sound system, which I found unusual in a restaurant that could be considered fine dining.
Glad the restaurant is open on a Monday night when not many places are. Our waiter welcomed us to the Eno Vino, pronounced "EE-no" when it was actually "EHN-oh veen-oh".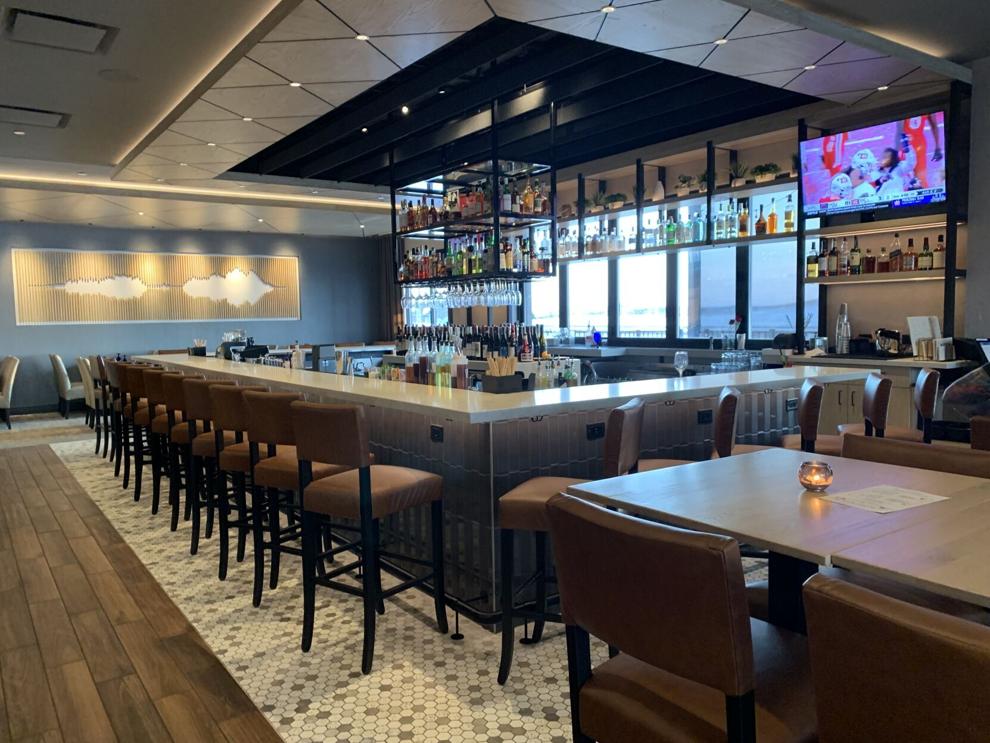 Todd, who's located between the West End and downtown, has worked at Eno Vino for about 10 years, said it's hard to find employees for the Waunakee restaurant, and many of them are in high school or college.
"We're training them as best we can," he said.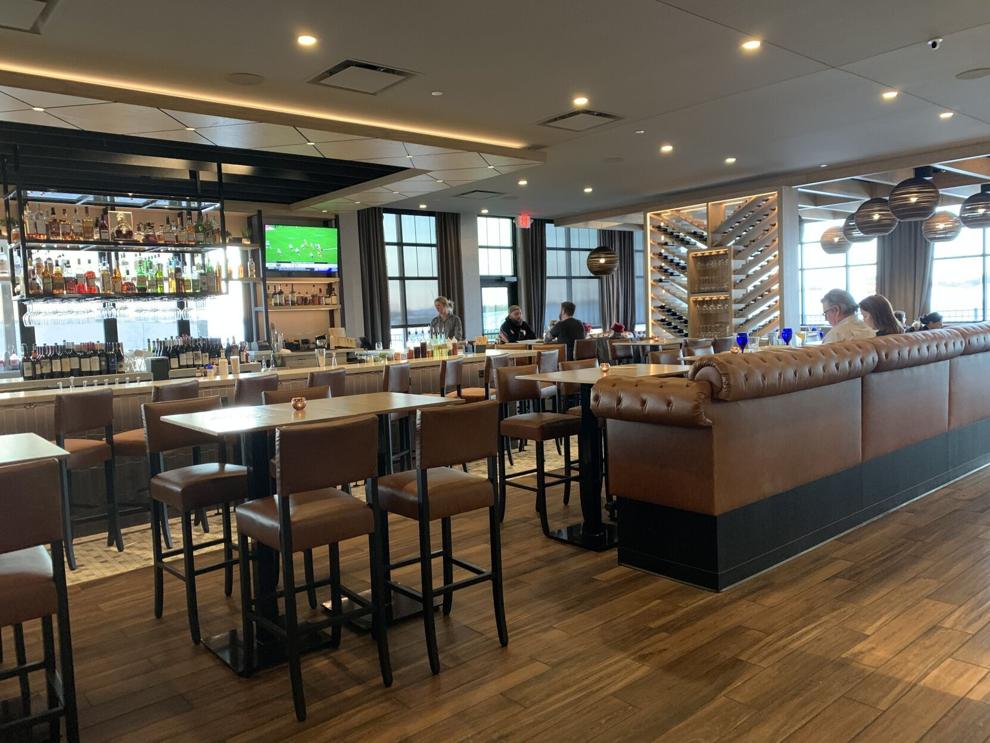 Even though the Eno Vino has been around for a long time, many people still say "EE-no," Todd said.
"As long as you know our names," he said, "that's what we really want."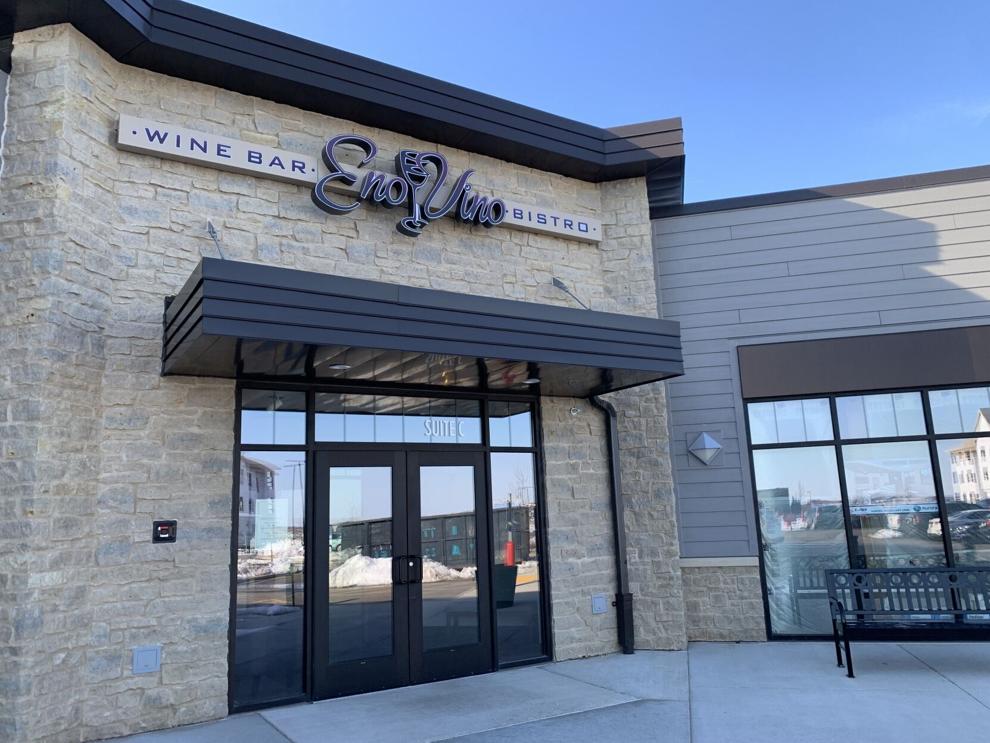 Jacknife, 1046 E. Washington Ave. A must for fast food sushi in Madison. I find myself reviewing more here than any other restaurant…
SASS, 10 W. Mifflin St. Among the salmon Oscars, this Capitol Square restaurant has a fantastic dish. The grilled fish was thick and moist and perfect…
East Johnson Family Restaurant, 824 E. Johnson St. This quirky little restaurant adds to the mix of eclectic small businesses on the Eas 800 block…
Wendigo, 121 E Main St., Stoughton. Everything here is great, from the quality of the food to the service to the atmosphere. And the price is reasonable…
Petra Bakery and Restaurant, 6119 Ordana Road. Mediterranean inspiration in the West End. Don't miss the chicken shawarma tacos, beef…
Borough Beer Company & Kitchen, 444 S. Park St. Casual but with an upscale feel, and the food is more expensive than most brewpubs. timeless…
Baldwin Street Grille, 1304 E. Washington Ave. This unassuming neighborhood pub will surprise you with its fried fish. Beer cured cod is…
Branch + Daughter Quality Meats and Market, 6601 Traveler Trail, Windsor. There are many reasons to visit Branch + Daughter, but the most important are…
Ishnala Supper Club, S2011 Ishnala Road, Lake Delton. The best part of this seasonal supper club is its location on Mirror Lake on the edge of Missouri…
Young Blood Beer Company, 112 King Street. This small brewery serving up intimate beers and food is growing in popularity. You'll be hooked on "running…
Stadium Takeout, 1517 Monroe Street. A small place on Monroe Street with great sandwiches and service. Donfather is named after owner Don Woods, d…
The Merchant, 121 S. Pinckney St. One of the most delightful al fresco dining spots in downtown Madison. When restaurants and bars are open…
Good News Ice Cream & Cafe, 117 King St. This café is now doing more than just ice cream, and it's doing it well. huevos rancheros need a…
Gotham Bagels, 112 E. Mifflin St. This 15-year-old bagel shop serves authentic bagels and epic bagel sandwiches. You can't go wrong with smoked salmon…
Roll Play, Garver Feed Mill, 3241 Garver Green. Roll Play is a great place to experience Asian street food. The restaurant has a good version of…
Good Co. Pioneer Point, 3730 Manistee Way, Verona. The restaurant makes a good impression with first class food, service and atmosphere. its roa…
Read restaurant news at go.madison.com/restaurantnews